Please Like:
It holds some of the best beaches around and is completely picturesque, so it's no surprise to see that Djerba is one of the most popular tourist destinations of Tunisia.
Bearing the above in mind, it also won't be surprising to hear that visitors are inundated with choices of accommodation. There are hoards of hotels surrounding this coastal area and to help you find a suitable one, we've picked out our favourite ten.
To learn more about these Hotels in Djerba and compare prices  from the major online booking websites, click here.
Pictures are courtesy of TripAdvisor.
Hasdrubal Prestige Thalassa & Spa
If you're looking for the cream of the crop, Hasdrubal Prestige Thalassa & Spa could just fall into this category. It's one of those hotels that lives off repeat custom, with most visitors more than happy to reside their again following their first stay.
Some people have compared the rooms to palaces, such is there quality, while the staff should also be worthy of a mention because of their helpfulness. In other regards, this hotel has its own beach and swimming pools – both of which are in fabulous condition.
Hasdrubal Thalassa & Spa Djerba
This is another hotel which can only be referred to as luxurious, with Hasdrubal Thalassa & Spa Djerba being more or less on par with the previous one we looked at. It again contains its own private beach, making it ideal for those families who just want to take advantage of a quiet escape, while the swimming pools are again larger than average and placed in picturesque settings.
A lot of past visitors are also quick to point out the fabulous entertainment packages, with the staff of this hotel always looking to provide you with new and fun experiences.
Hotel Dar El Bhar
The Hotel Dar El Bhar is another establishment which has its own pool and beach area and again, these areas are in fabulous quality. In terms of special features, a mention should be given for the beach terrace which is attached to the restaurant area.
This provides monumental views and allows guests to enjoy the wide array of food offerings sat in pure luxury.
Hotel Telemaque Beach & Spa
For those tourists that want direct access to the local beach, Hotel Telemaque Beach & Spa should fit the bill perfectly. It's within a stone's throw of white dunes, while both pools are also reasonably sized and will be ample for most guests.
This is a hotel which is regarded as one of the liveliest around and whether you are a child, party-goer or mature adult, the reps on site will make sure that you are kept entertained throughout your stay.
Dar Dhiafa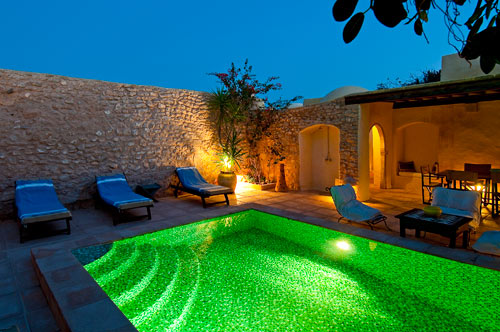 In comparison to the previous hotels we have looked at, Dar Dhiafa is the complete opposite. This isn't your traditional hotel; it's instead more like a quiet village filled with small houses and pleasant courtyards.
Visitors will have two swimming pools available to them, while the food available in Dar Dhiafa is completely local and is ideal for those that want to taste a true Tunisian cuisine.
Al Jazira Beach & Spa
One could argue that Al Jazira Beach & Spa is slightly less commercial than some of the other establishments in this article, and it largely appeals to Tunisian tourists.
The big selling point about the hotel is the "homemade factor", with all of the food made completely from scratch which creates the ultimate local dining experience. The events co-ordinators are busy throughout the day and they make special effort to devise regular kids' activities, making it an ideal for a family getaway.
Club Magic Life Penelope Beach Imperial
This is one of the larger hotels in the vicinity, and the fact that there are five swimming pools based on-site highlights this. It's another excellent choice for any type of visitor, with activities being offered to both children and adults.
In terms of the latter, anybody tuned into their water sports will fall in love with Club Magic, with anything from windsurfing to canoeing being available. There is also a beach at the bottom of the site, while spa facilities are available as well.
SENTIDO Djerba Beach
Situated right beside the beach, the SENTIDO Djerba Beach hotel is another recommended choice for the typical tourist. The establishment boasts numerous outdoor swimming pools and unlike some competitors, there is also an indoor one for the colder periods of the year.
The food served at the restaurant is second to none and one of the reasons it appeals to such a wide audience.
Djerba Plaza Hotel & Spa
One only has to view some of the promotional images of the Djerba Plaza Hotel & Spa to see that it's the definition of luxury. Many past visitors have claimed that it's one of the best hotels they have ever visited, with the rooms and general facilities being of pristine quality.
A special mention should also be given to the entertainment team, who are regarded as some of the most outgoing around.
Iberostar Mehari Djerba
Last on the list is the Iberostar Mehari Djerba, which is again within a stone's throw of the beach. Of course, this isn't its only selling point and considering the fact that this establishment is managed by an international hotel chain, a lot of guests have commented on how surprised they are about the staff being so accommodating and flexible.
As well as this, there are a great variety of meals, while there is also a big pool which should keep the kids entertained for hours on end.
To learn more about these Hotels in Djerba and compare prices  from the major online booking websites, click here.
Comments
comments